About us

Mission01
Research on Laws in Asia and the Science of Legal Assistance
Compilation and dissemination of basic information on laws and politics of countries in Asia
Research on Asian Legal Systems
Our programs are at the frontiers of legal research on Asian countries.
Japanese research on the legal systems of other Asian countries was generally focused on China. As Japan has strengthened ties with many other Asian countries in recent years, there is an increasing interest in the entire region for business and academic reasons. Nagoya University has trained specialists in the different fields of national law of Vietnam, Cambodia, Indonesia, Mongolia and other countries. It remains at the frontier of Asian law studies, often working in collaboration with other Asian and Western research institutions. CALE collects and disseminates basic information on Asian laws, conducts theoretical research, and thus focuses on both; enriching of academic knowledge and development of programs which meet business or other related social needs.
Research on Legal Assistance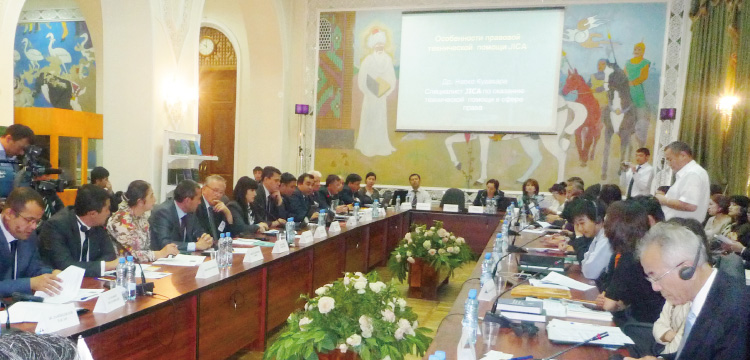 Building a transmissive model of legal studies through academic exploration of legal assistance
While conducting legal assistance programs in practice, CALE also takes legal assistance seriously as a new phenomenon in the legal world – and endeavors to seek academic insights into the subject of legal assistance on its own right. Legal assistance programs are supported by theoretical inquiries into legal assistance as a new academic agenda covering topics on principles and philosophy of legal assistance to specific countries and legal areas, methods for implementation and evaluation. Key issues include; the harmonization between national and international laws amid globalization and regional integration processes, transplantation of laws and conflicts with traditional legal systems, and the process through which transplanted laws may take root in the new environment. Legal assistance also represents a new direction of outward transmission for Japanese legal studies which have previously been oriented toward the absorption of European and American legal approaches.
Coordinating research on the laws of Asian countries and theories of legal assistance
The National Center in Japan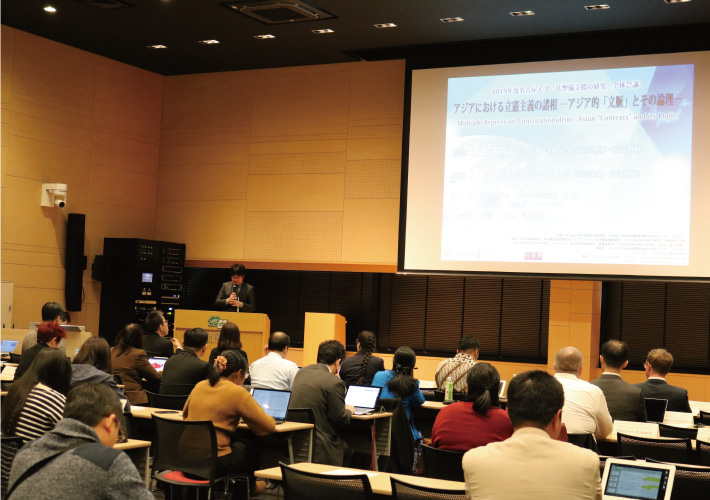 Building a national network through cooperation with legal assistance institutions
While being the only university-level center in Japan which specializes in legal assistance, CALE plays a coordinating role for research related to Asian law and politics and Asian legal assistance. These activities involve an extensive network-building among academicians, researchers, government officials and legal practitioners.
Research Links to Countries in the West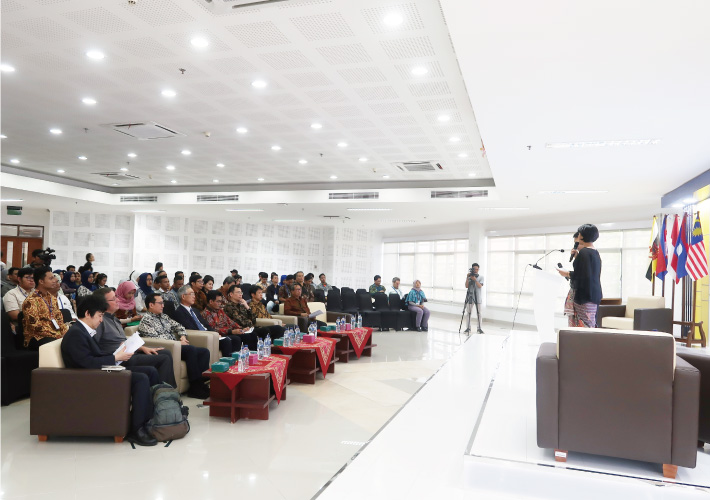 Building international networks to take further steps towards the world's frontier in the field of legal assistance
Legal assistance is also conducted by some governments of Western countries such as the USA, France, Germany and Sweden, and international organizations. CALE is expanding research and education activities in collaboration with universities in these countries and international aid agencies which are supporting legal assistance and research in Asian countries.
Industry-Academia Cooperation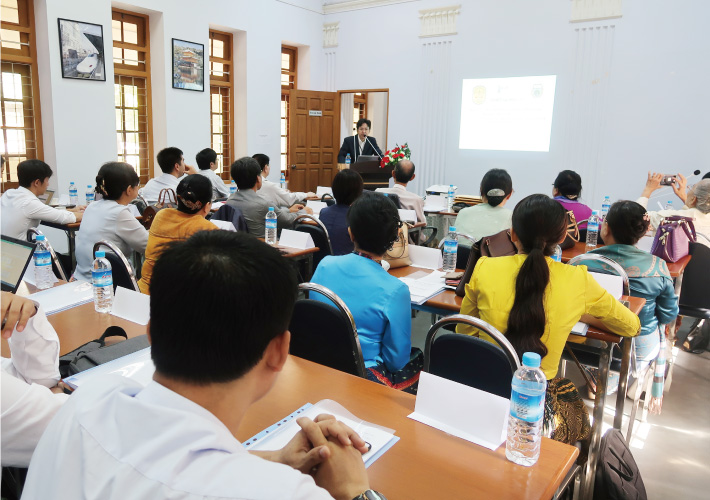 Utilizing its networks and providing information for business enterprises
Japanese companies which carry out business operations in other Asian countries need to obtain information on pertinent national laws. CALE uses its international network to provide those companies with essential information as well as expert personnel.
Symposiums and Exchange Programs for Researchers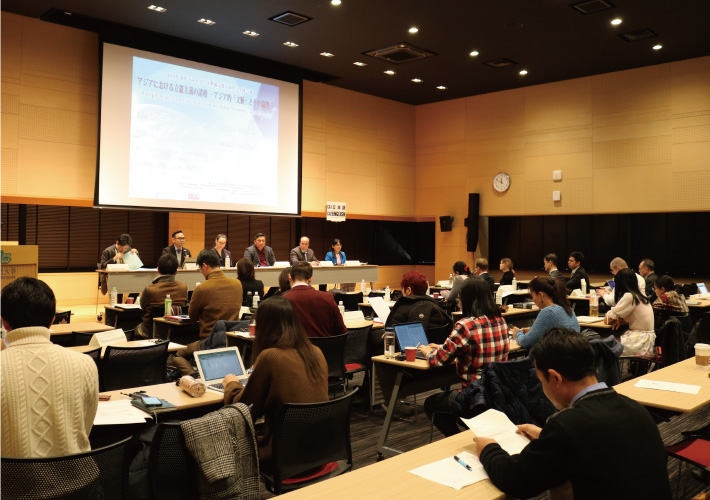 Hosting many international conferences and symposiums
In connection with various research projects on Asian law, politics and legal assistance, CALE organizes many symposiums and workshops in cooperation with respective universities, legal practitioners and government agencies of different Asian countries. As a part of the ongoing exchange activities, CALE regularly hosts prominent legal experts from other countries as visiting scholars and researchers.
Publications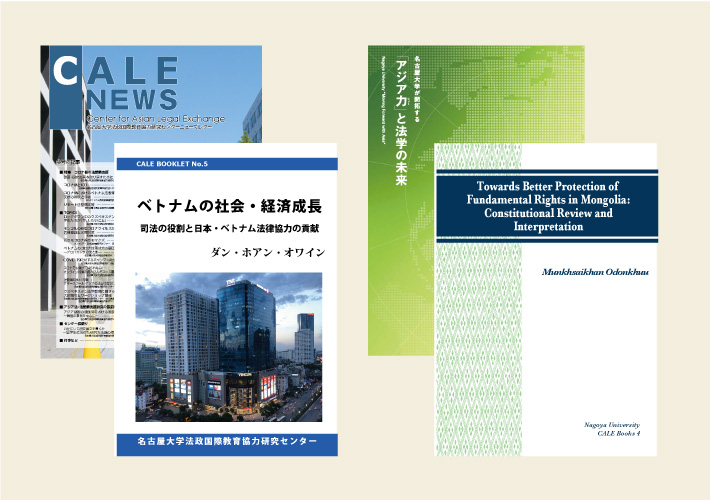 CALE regularly publishes research reports and notes on Asian law and on legal assistance
Asian Law Bulletin
CALE NEWS
CALE Books
CALE Booklet
CALE Discussion Paper
JICA Projects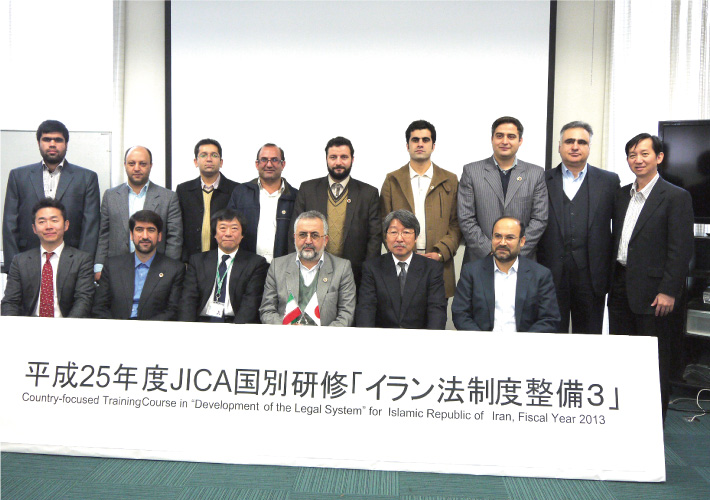 Working with JICA to provide training for specialists from Asian countries in Japan
CALE coordinates training in Japan for groups from specific countries as a part of the overseas development assistance programs run by the Japan International Cooperation Agency (JICA). Due to the experience available, CALE has been hosting trainee groups from Laos, Iran, Mongolia and Uzbekistan. Collaboration with JICA legal assistance projects also includes cooperation by individual faculty members in their capacity as short term JICA experts.